Slice Audio File Splitter
In an earlier post, I mentioned I used a free mp3 splitter to create my couchto5K playlists. I discovered that the version I had was just a trial version so I was on the hunt for a new one. I found this pretty good one called Slice. The best part is it's completely free and very simple to use!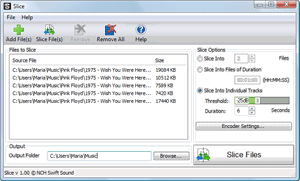 The only problem I had was when I first used it the output files didn't appear where they were supposed to (or anywhere for that fact). Searching through their help files I found out I had to download an additional file. From their support page:
P. After I split files the output folder is empty
Please download the mp3el.exe from our Components page.
After I downloaded it, everything worked fine. Just pick the file you want to split and you can split it either by # of segments or time.
BTW, I noticed that some of my files are distorted on the parts with loud bass after I splice them (it had nothing to do with Slice though as it did the same thing with other file splitters). Does anybody know how to fix that problem???
Posted: 24 February, 2007 in Cool Links, Tips/Tricks/Hacks.